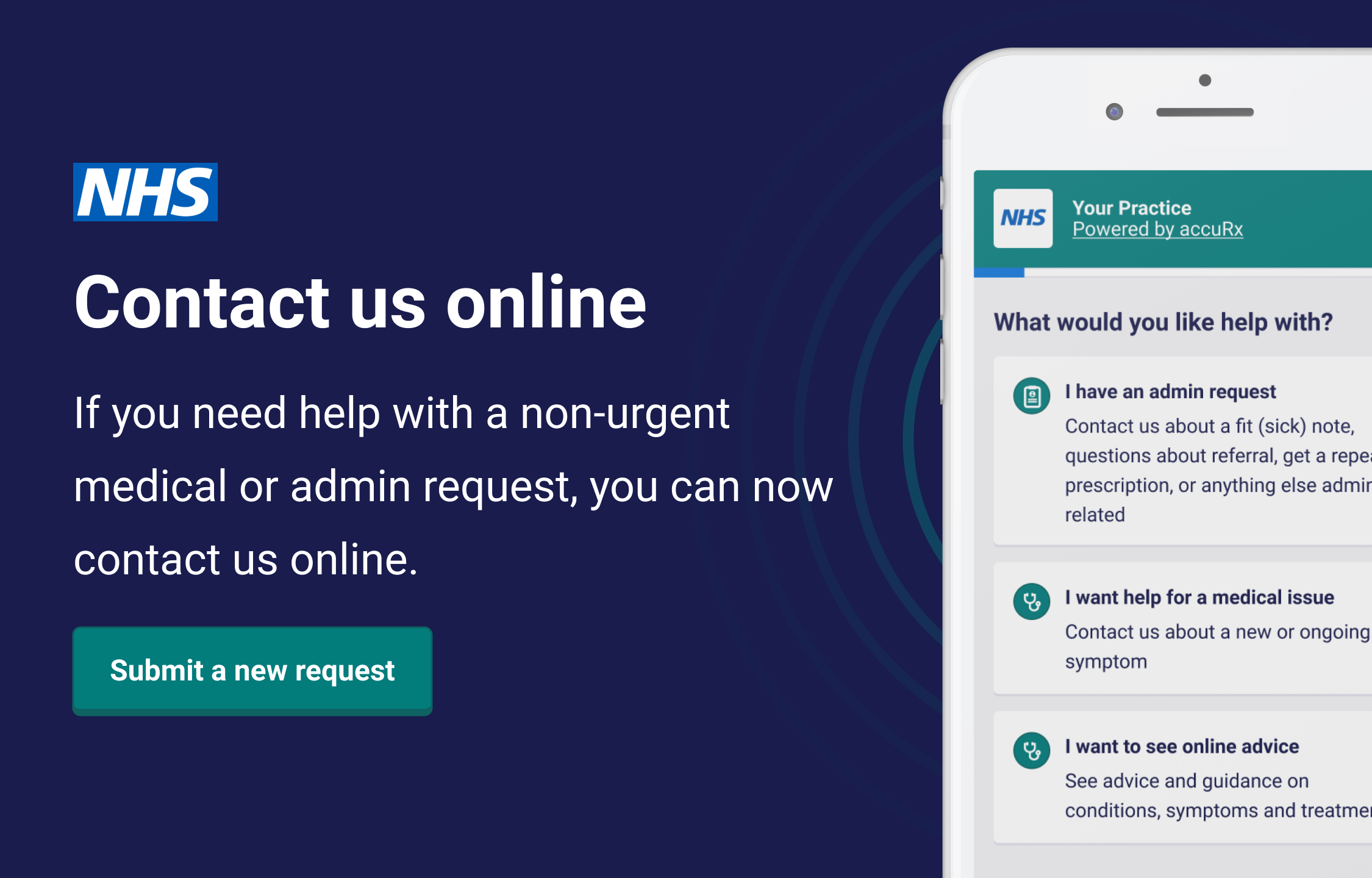 Contact your doctor online for non-urgent matters and avoid phone queues!
How does the service work?
Complete a simple form about your problem or request
Your GPs decide on the best treatment for you
The practice responds with advice or an appointment
You will get a response within 2 working days
Please submit a new request using NHS Contact us online
Latest News
Covid Vaccination News
Spring Booster 2023

This spring, the NHS is offering the COVID-19 vaccine to those at highest risk from severe illness.
Those eligible for the COVID-19 spring booster vaccine are:
People aged 75 and older
Residents in care homes for older people
Those aged 5 and over who have weakened immune systems.
If you are eligible for a spring booster, you will be contacted by the NHS by letter, text message or via the NHS App. Appointments can be booked via the National Booking System or NHS App, with first appointments available from Monday 17 April.

The last date you will be able to book a spring booster will be 29 June, with the last spring vaccinations on offer the following day, 30 June.

To book for yourself or a family member, go to www.nhs.uk/CovidVaccination, visit the NHS App, or call 119 for free.
What we ask of you, our patient
Visit your GP surgery website and complete a confidential online form to request advice or treatment. You will receive a response as soon as possible, usually within two working days. Online forms should not be used for very urgent medical problems.
Call your surgery to arrange an appointment. You will usually be assessed by a clinician on the telephone first, with face-to-face care arranged if clinically needed.
Please don't enter the practice if you have any Covid symptoms.
For urgent issues or out of hours, you can also call the NHS on 111 or go online to seek NHS advice 111.nhs.uk
Download the NHS App to order repeat prescriptions and get health advice.
Our staff in the surgery are here to help you and make sure you get the right treatment as quickly as possible. We aim to be polite, helpful and sensitive to our patients' needs and concerns. In return we ask that all patients treat our staff with respect. We have a zero-tolerance policy to aggressive, violent or abusive behaviour against our staff which may result in patients being removed from our practice list and some cases we will choose to inform the police.